Oxford Playhouse Trustees and staff endorse Oxford Cultural Anti-Racism Alliance's, Manifesto for Radical Change.
We pledge to celebrate and champion diversity, equality, and inclusion within our workforce, audiences, artists and the communities we engage with. There is no room for complacency as we strive to remove barriers to access, to truly reflect our city and region, and to live our vision to be 'A Playhouse for Everyone.' In doing this, we will not only create a fairer more just society, but also a more dynamic, relevant, and innovative arts sector.
Oxford Playhouse is committed to working with colleagues across the cultural sector to eradicate systemic racism, and ensure we are part of an equitable and inclusive industry. We understand the danger of indifference and how this has perpetuated racism within organisations. Prejudice, whether conscious or unconscious, has no place at Oxford Playhouse.
The elevated focus of the Black Lives Matter movement challenged us to hold a mirror up to the Playhouse and look critically at all aspects of our work and what more we can do to identify and eliminate systemic racism. We will continue to work with Arts Council England applying the Creative Case for Diversity, and a more inclusive, relevant sector. Whilst we have made some progress in addressing these important issues organisationally and collectively, we acknowledge that there is much more to do.
This statement forms part of our renewed commitment to act and to bring about positive and sustained change at Oxford Playhouse.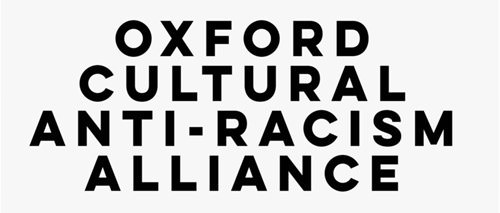 ---
What we have achieved so far:
Established an Equality & Diversity Committee, formed of Trustees and senior staff, to promote policies that will support our objective of being an accessible and inclusive organisation, reflecting the communities it serves.
Established a cross organisational Equality, Diversity & Inclusion working group, with staff, volunteers, artists and young ambassadors, to put into action policies and commitments to eliminate systemic racism and become a more relevant, inclusive sector.
Oxford Playhouse is an inaugural partner and co-lead of the steering committee for the Oxford Cultural Anti-Racism Alliance.
OP has endorsed the Oxford Cultural Anti-Racism Alliance manifesto for change.
All Trustees and Managers within OP have received racism awareness and anti-racism training.
OP Chair attended bespoke session on race by the Association of Chairs.
We have reviewed our recruitment process and monitoring forms to eliminate bias and are developing strategies to reach the widest possible candidate pools.
24% of our Board are people of the Global Majority.
---
What we commit to do:
Continue & build on these achievements.
Work with partners in Oxford Cultural Anti-Racism Alliance to implement the pledges in its manifesto of March 2021, across OP's leadership, organisational culture, recruitment, programming, artist development, welcoming spaces, language, and reporting.
Racism awareness and training for all staff to address systemic racism (April 2021).
Revise OP's Equality, Diversity and Access policies.
Publish a bespoke Anti-Racism policy.
Finalise associated action plans and report on our progress against these through our website and other communication channels.
We welcome feedback at [email protected] or you can write to us at Oxford Playhouse.